A new quest called 'mon to catch all the time' is coming in Pokémon Go. Getting some great in-game items for free will make that quest easy for you. You are thinking how to get your hands on those items. No worry as we have brought for you some latest promo codes to easily get those items for free. Here's our list of all the active Pokemon Go promo codes in November 2021.
Read More :- Roblox Promo Codes November 2021
Pokémon Go promo code November 2021
Unknown to some Trainers, Free Pokémon Go Promo codes give the players some really
exciting items. But free codes for the game are not that easy to get. The statement about promo codes in the Niantic, Inc. (the developer of Pokémon Go) website reads: "Niantic offers a limited supply of one-time use codes in conjunction with special events or sponsored partnerships." Though Niantic sometimes shares some of the promo codes on their Twitter account. So here's our guide to help you.
Active Pokémon Go promo codes in November 2021
As of November 2021, there are three active promo codes to redeem in Pokémon Go. We have checked these codes and as of October 29, 2021, these are working properly. Using these three codes, you can receive free PokeBalls as well as great in-game garments from Samsung and Verizon. The codes are given below.
Active Redeem codes Pokémon Go 

● KUAXZBJUTP3B7 – Get a Galaxy A Series Outfit (Samsung Cap / Samsung Shirt).

● LRQEV2VZ59UDA – Get two Verizon Jackets, and a Verizon Mask.

● E9K4SY77F5623 – Redeem for 10 Pokéballs.
Codes To Receive Free Coins In Pokémon Go
We are sorry to inform you that as of now, there are no redeemable codes which can give you free coins in Pokémon Go. We will deliver the codes to you via this article as soon as those become available.
Join Our Social Media : 
How To Get Daily Boxes In Pokémon Go
The Shop in Pokémon Go also offers free Daily Boxes that you can claim to get some more
items. Hope this article helps you to get some really cool items and boost your inventory in Pokémon Go. Make sure you check this article often as we will continue to update it with more promo codes as soon as possible.
Full List Of Expired Codes Pokémon Go In 2021
If you missed the chance to redeem some free items in Pokémon Go using codes in the past, but are interested to know what was on offer, check out this list below:
Expired Pokémon Go Redeem codes

● TRFJVYZVVV8R4 –  Redeem 1x Lucky Egg / 10x Max Revives / 30x Ultra Balls. 

● UWJ4PFY623R5X – Redeem 1x Lucky Egg / 5x Stickers / 5x Ultra Balls. 

● 5PTHMZ3AZM5QC – Redeem 1x Sinnoh Stone / 10x Max Potions / 10x Ultra Balls.

● 6W2QRHMM9W2R9 – Redeem 5x Razz Berries / 10x Poke Balls.

● GXSD5CJ556NHG – Redeem The North Face x Gucci Collection.

● H7APT5ZTLM45GZV – Redeem 30x Poke Balls.

● 9FC4SN7K5DAJ6 – Redeem 1x Star Piece / 5x Stickers/ 5x Razz Berries.

● DJTLEKBK2G5EK – Redeem 1x Star Piece / 10x Pinap Berries / 10x Stickers / 20x Ultra Balls.

● MDWC4SNGUFXS2SW9 – Redeem 20x Great Balls / 20x Razz Berries.

● MQE4PFNYVRM6M – Redeem 1x Lure Module / 5x Great Balls / 5x Stickers.

● P2XEAW56TSLUXH3 – Redeem 30x Max Revives / 30x Pinap Berries / 30x Ultra Balls.

● DYEZ7HBXCRUZ6EP – Redeem 30x Great Balls / 30x Pinap Berries.
How To Use Promo Codes For Pokémon Go On Android 
Using promo codes to redeem free items in Pokémon Go is a simple process for android users. Here is all you need to do-
● Open the Pokémon Go App.
● Tao on the Menu button (the PokeBall icon).
● Tap on Shop.
● Go to the bottom part. There you'll find a space to enter the code to redeem the items for
free.
How To Use Promo Codes For Pokémon Go On IOS 
For the iOS users, the process will take a little bit longer, as they don't have the option to use codes in the app. They have to redeem any Pokémon Go Promo Code via a web browser. Here is how it can be doneHow To Use Pokémon Go Promo Codes Via Web Browser-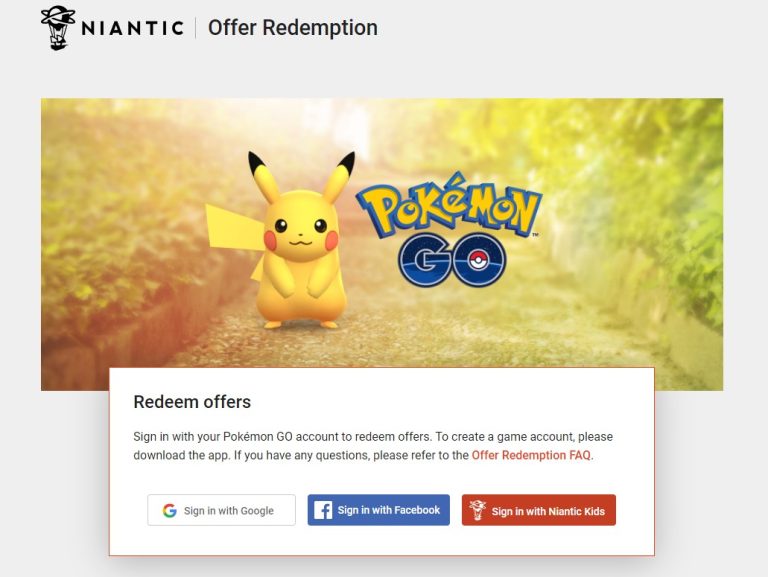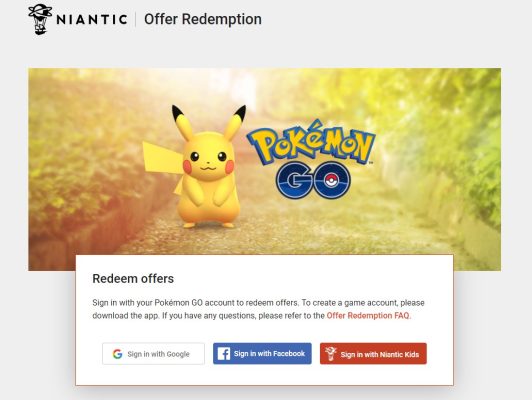 ● Visit the Official Niantic Offer Redemption Website. There you'll get three options to
log in with – Google, Facebook, or Niantic Kids. These log in methods are the same as the ones given in the Pokémon Go App.
● The next page will give you the space to enter the promo code. Enter the code there. If
the code entered by you is accepted, you'll receive a confirmation message on the
screen that the items have been added to your game inventory.
One thing to note is that you can't log in with Pokemon Trainer Club via a web browser. For this reason, iOS users who only have a Pokemon Trainer Club credential will not be able to redeem any codes as of now. Though, fortunately, Pokémon Go accounts can be linked with Google and Facebook to resolve this problem. Both of these options also have two-factor authentication for security to avoid loss of login information or getting hacked.
● THE END ●
Thanks For Coming Here, Keep Support Us, Your Support Motivate Me For Providing More Content.